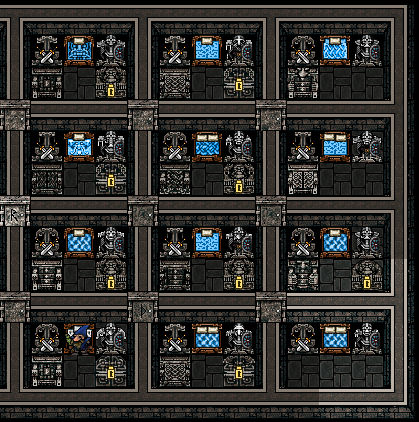 This is the first official release of a purely functional tileset on its own!
The Vettlingr Tileset uses 32x32 dimensions and aims to add a slight dystopic feel to your fortress; a darkest dungeon inspired style to convey a murkier atmosphere to anyones fort.
Easy install:
Download this tileset
Download or find your LNP directory
extract the contents of this tileset into LNP/graphics
Start your LNP launcher
Update your graphics settings to Vettlingr in the launcher
- Play!
Complicated install:
Download Dwarf Fortress
Download and install DFhack
Download and install TWBT into your DFhack version
Set print mode to TWBT
Do some magic
Download and install Vettlingr tileset by moving the files into their correct directory
Do more Magic but end up cursing your whole family and all your friends
- Play!
Changelog
1.2: Added Further furniture variations, as well as new sprites for nestboxes, gems, boulders and instruments
1.1: Added Furniture Variations, updated floors, statues, fixed bug with glass walls.
1.0b: Fixed Tables
1.0: added graphics for all workshops, furniture and some items. Added Specific graphics for metal, wood and glass walls. And much much more.
0.2a: added a few workshop and tool sprites, barrels, large pots, vermin.
0.1a: Added among others, sprites for Hives, wells, Tracks, Trees and Water.